Daffodils - Learning and Crafting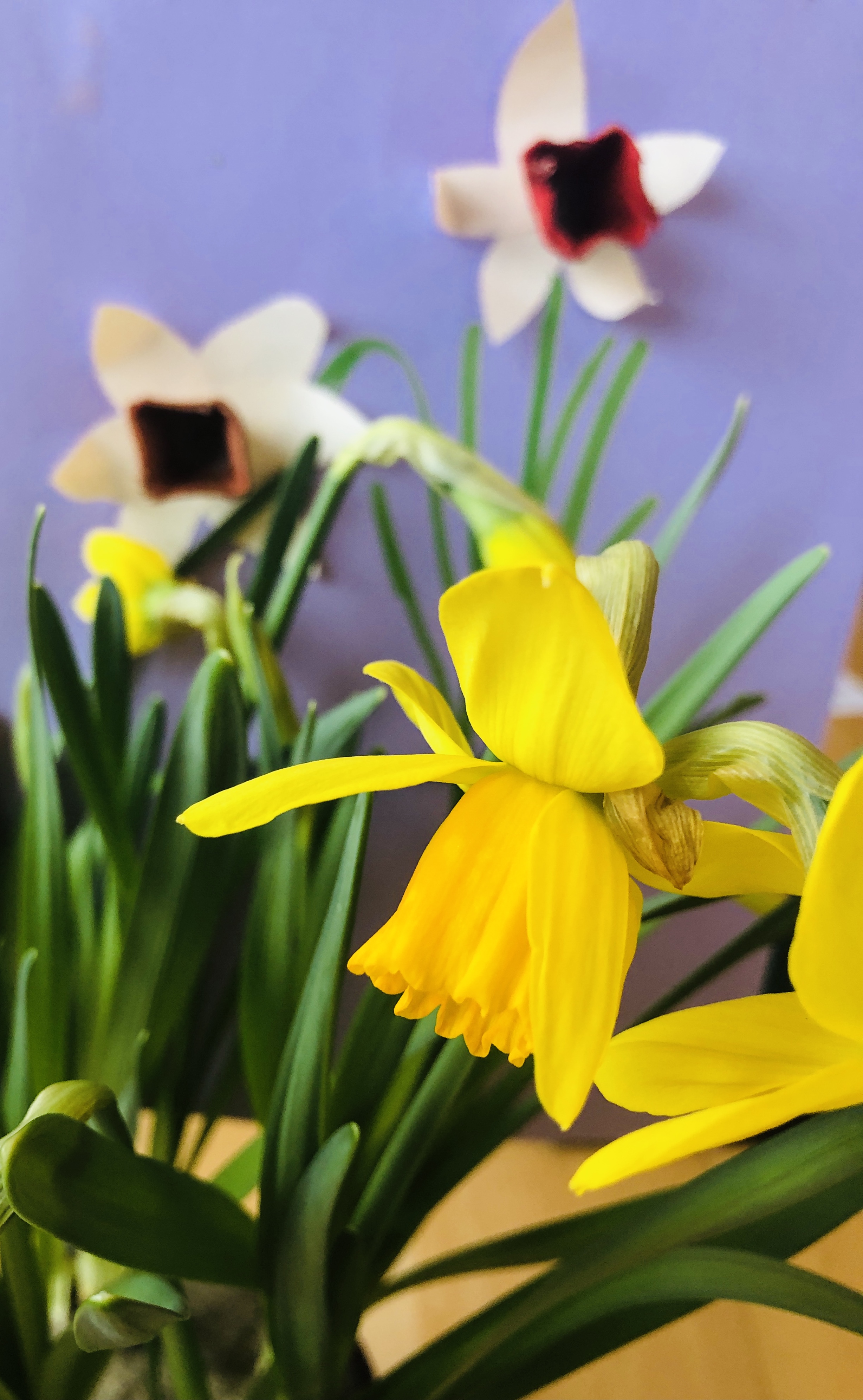 A few days ago, Einstein E had several school tasks about spring-blooming flowers. Some of these were connecting texts and pictures, observing flowers and keeping a journal, a scavenger hunt (which included drawing, naming the flowers, writing about the location where the flower is found…). And even though we live nearby the forest, there aren't many spring-bloomers. So, we decided to research the topic a bit more and started with daffodils.
First, here are a few interesting facts:
- Legend says daffodils are associated with cheerfulness. When they are presented to someone as a bunch, it is meant to provide happiness.
- The bulbs can be poisonous to animals.
- If you spot the first daffodil of the season in Wales, your next year will supposedly be filled with wealth.
To learn more about these plants, we played questions and answers. I said a question word, Einstein E thought of a question, and then we looked for the answers. Power P was not a part of this activity – he was too busy building another Lego city. 
So, here are a few questions to which we found the answers.
Who or what: In Croatian, some people call it "zelenkada", and others "narcis". The boys learned that in German, it is called "Narzisse", which is very similar to "narcis". On the other hand, "daffodil" is the word Einstein E finds very difficult.
Where: Native to northern Europe and are grown in temperate climates around the world.
What colour: in addition to the classic yellow form, the trumpet and petals may themselves be of contrasting yellow, white, pink, or orange.
How many: Each plant features five or six linear leaves that grow from the bulb
How big:  The daffodil grows to about 41 cm in height.
How long: Daffodils could flower for anywhere from six weeks to six months, depending on growing conditions.
How much: 4.50 €. There's a flower shop on our way to the school bus. And, since we were into daffodils, we decided to buy a few. What a perfect opportunity to count and calculate. If one costs 4.50, how many can we buy with 10 €? How much change? If you have three coins of 50 cents, how much is that?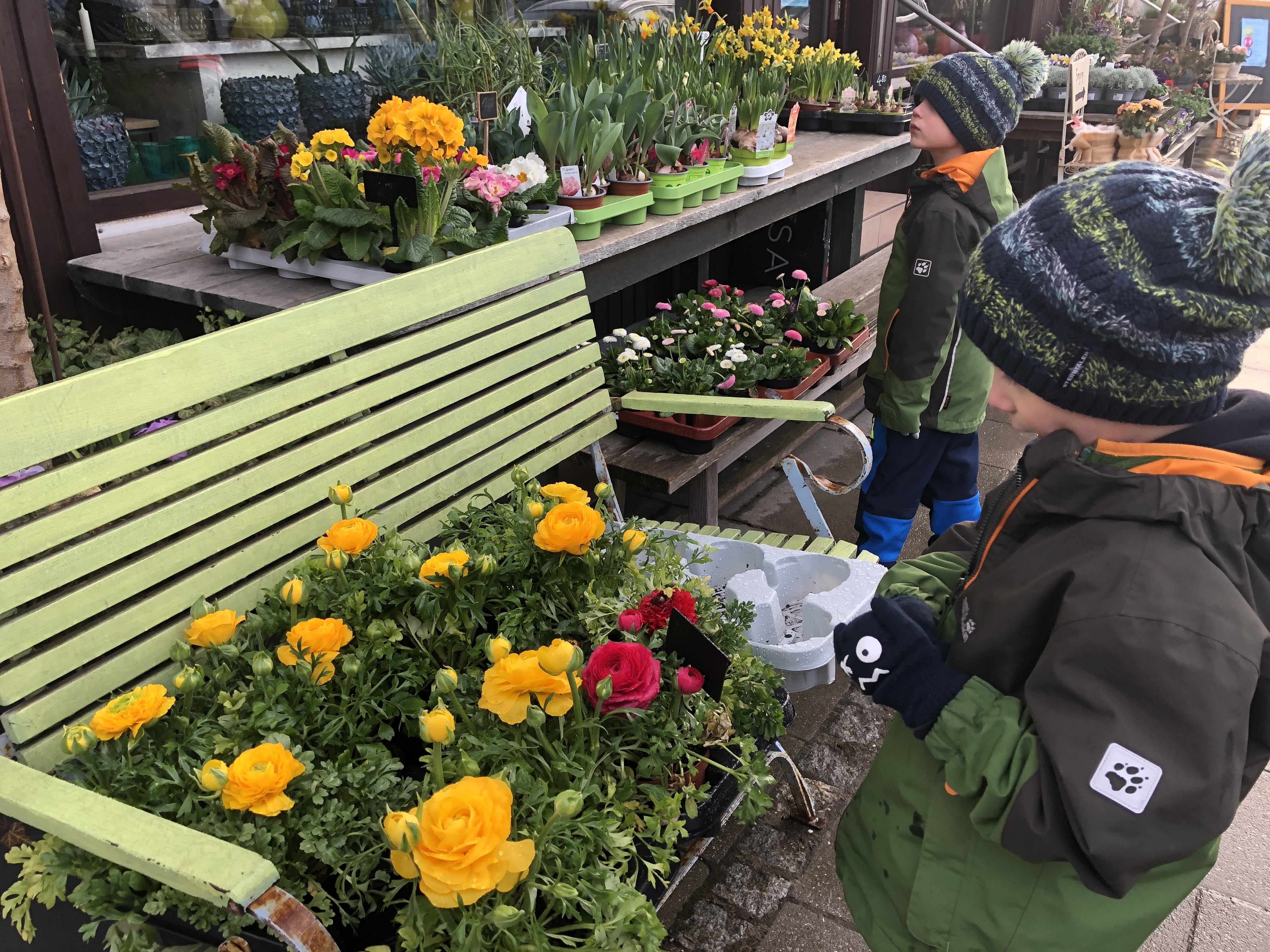 After all these questions and answers, we got busy crafting.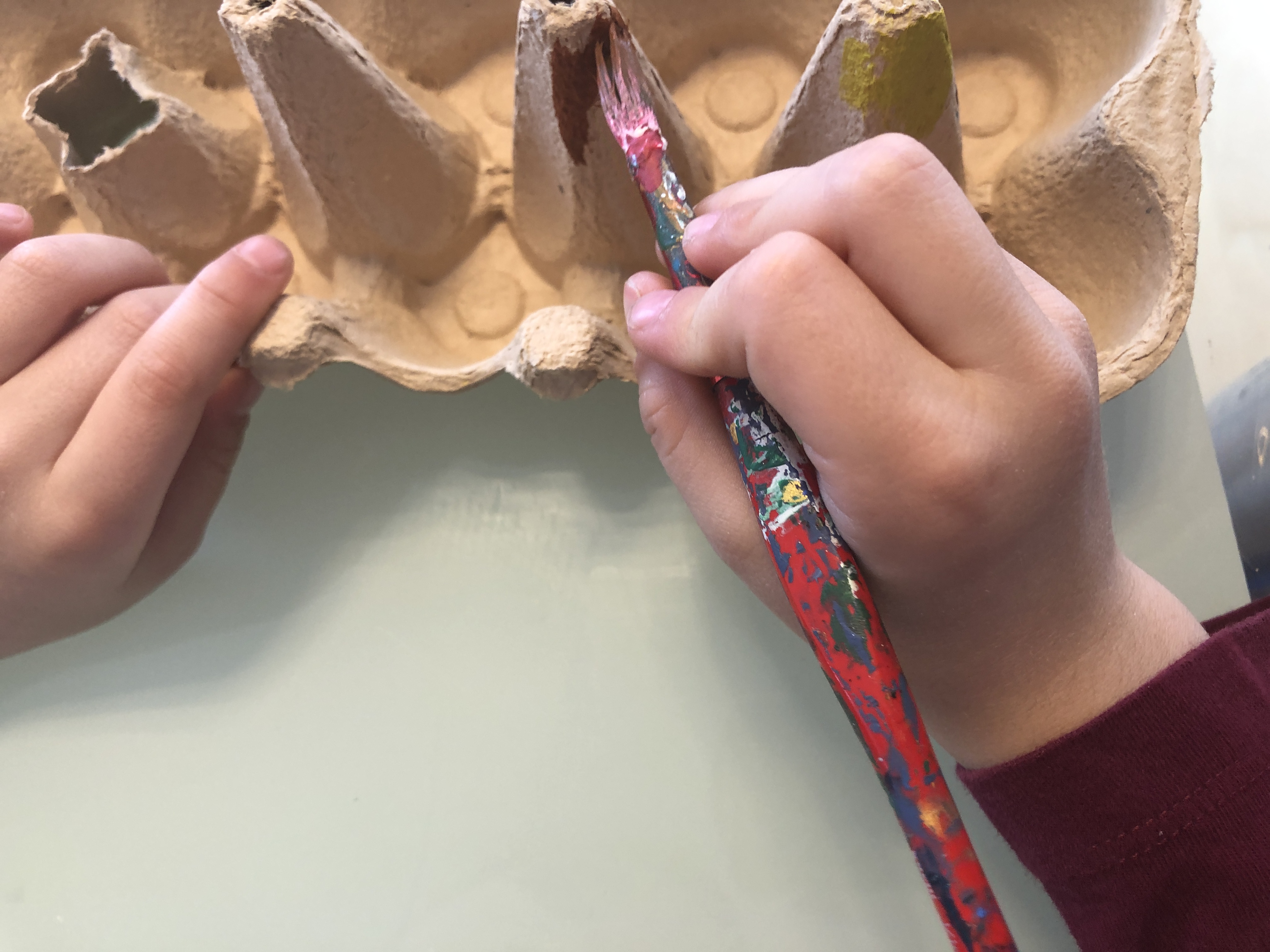 Step 2.
Observe the form of the petals, outline and cut them out of the yellow sheet of paper.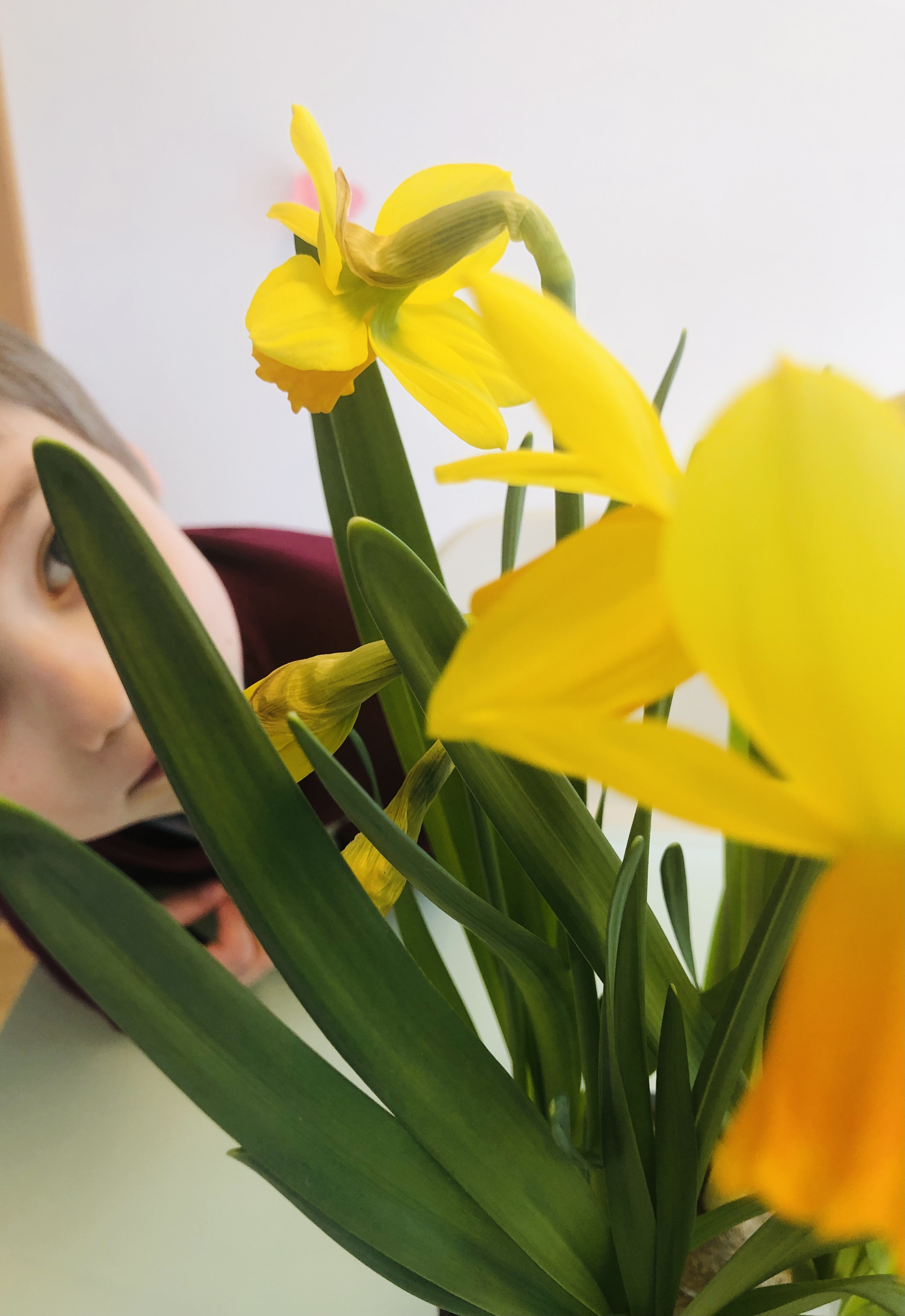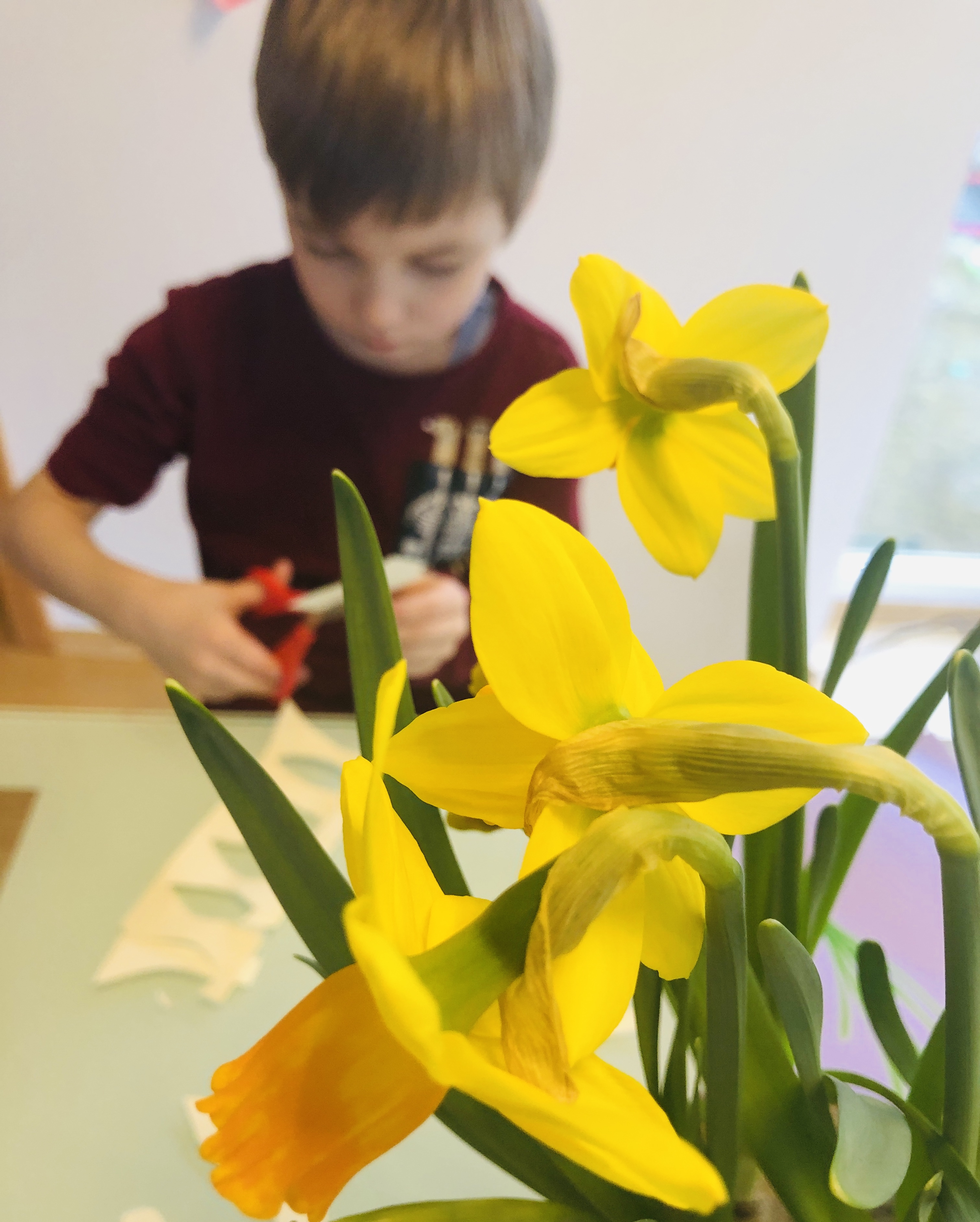 Step 3
. 
Arrange and glue the cut-outs to form petals.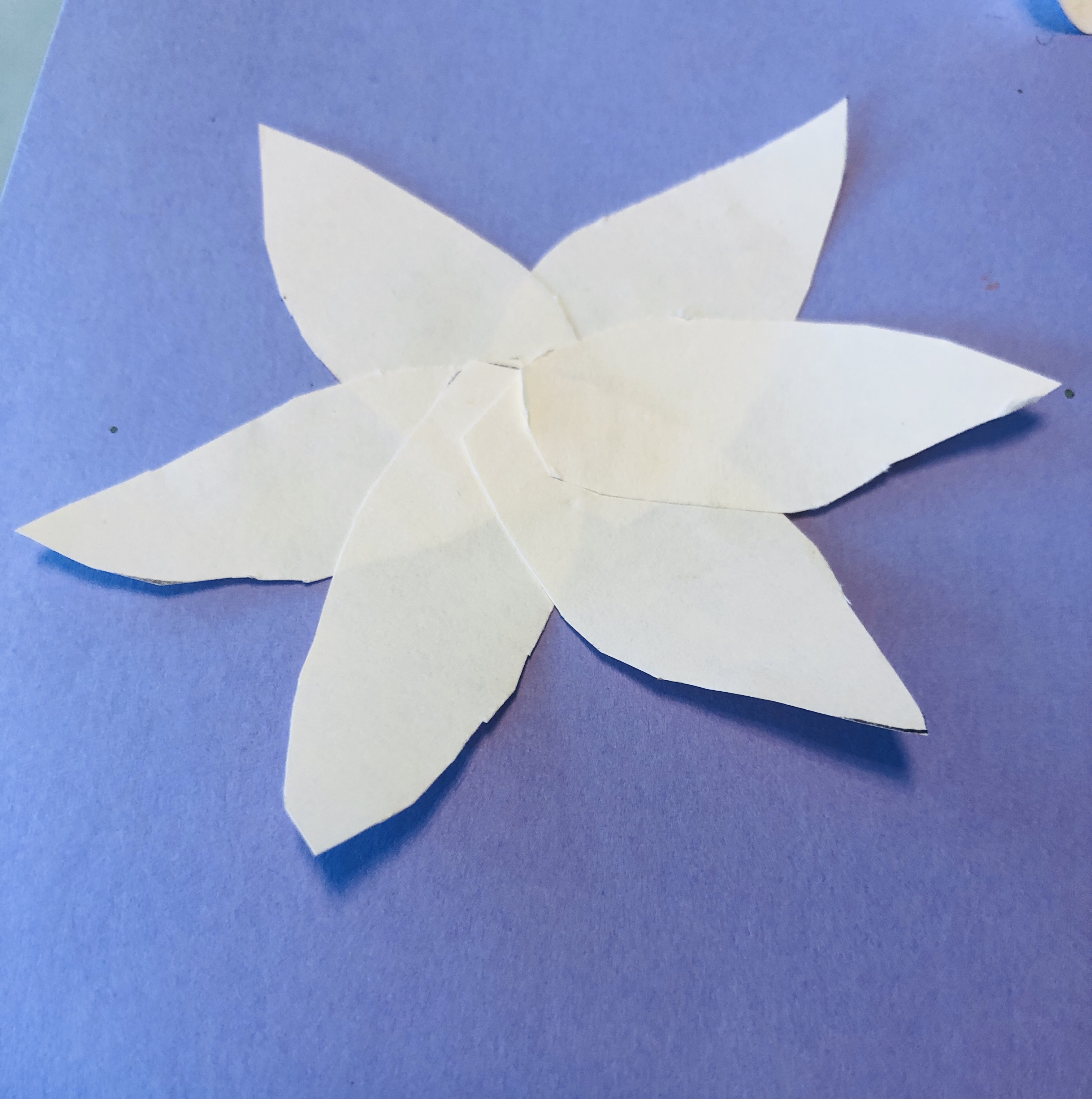 Step 4.
Stick the egg box segment onto the centre and draw a stalk and leaves.